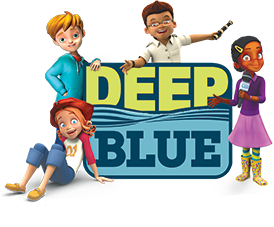 We provide Sunday School for all ages at the 9:30 hour.  Children under the age of two will find a safe and welcoming environment in the toddler room at 9:30 and 11:15.
During the 9:30 hour, children in grades 2-6 will have the opportunity to participate in age appropriate Sunday School classes using the Deep Blue Curriculum developed by Cokesbury, the United Methodist publishing house.  Deep Blue uses the Common English Bible and incorporates a variety of teaching styles to engage students as they learn more about the Bible and God's plan for them.  Our 1st and 2nd graders, will be using an interactive curriculum developed by Group Publishing to explore the Ten Commandments.  Our third graders will be spending the fall using Learning to Use My Bible.  All third graders will receive a new Deep Blue Bible as a part of the worship service on September 18 and then they will dive into their Bibles for the fall quarter learning how it is assembled, where to find things, and some history of the Bible.
Gathering 139*
Gathering 139* is a great opportunity for children who attend Open Doors with their family at 11:15 am. Midway through the service, children (Age 4-elementary) are invited to meet one of our G139* team members for activities based on the morning message. After the service, parents pick children up in the Multi-Purpose Room. Register online (http://goo.gl/forms/v8kgyw4A7ycTdL253), or fill out the bottom part of the flyer available at each entrance, or see one of our staff members to do a preliminary check-in.
We are fortunate to have a very talented and dedicated group of Sunday School teachers, but if you are interested in helping in this area, please contact Pastor Amy Grant agrant@fairfaxumc.org to see how you can support children's ministry.